lisachew
Member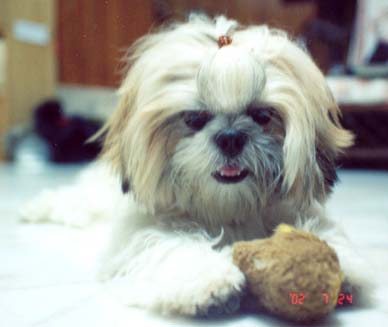 Dec 23, 2002, 6:35 PM

Post #168 of 187 (13117 views)
Shortcut

Re: [lex] Christmas Dress-up Party [In reply to]
Can't Post

---

Hi lex

Great to meet you and lady!! Your lady is such a cute little gal!! I love her on sight!! hahaha!! Well, she is really a lap dog if compare to my Teddy.

She seems to love sitting on ppl's lap! Teddy dun really like that as it gets pretty hot after awhile so he prefer to sit on the floor where its colder.

Its nice to see everyone and all the furkids enjoy each other. Its pretty funny to see Rex and another lab (sorry didnt get the name) chasing after Biscuits everywhere especially in the pond!

I was LOL enjoying the scene where Mr Khoo was chasing after his ROn (very very adventurer dog) all around the pond.



Everyone and furkid was sooo into each other but Ron was having fun running wildly everywhere... LOL



Rex is so friendly to everydog he sees on sight! Its so nice of him to tried so hard on trying to be friend with Lady the Dane (pitifully tied at the pole)

but then to no avail.

Teddy is shy towards ppl as I seldom socialize him with ppl. As for other dogs, I guess he handles it well, although sometimes he might get

bonkers!

Its great to meet everyone there!



Merry Christmas and a Happy New Year!!!!


Regards
Lisa

"A dash of lion, several teaspoons of rabbit, a couple ounces of old Chinese men, a bit of a beggar, a tablespoon of monkey, one part baby seal, and a dash of teddy bear." - shih tzu