RealityDreamer
Doggyman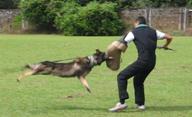 Oct 11, 2004, 8:21 AM

Post #26 of 48 (10534 views)
Shortcut

Hello,



Does your dog have an ear infection? If yes,then that's the cause of the smell.

Another thing is,dogs will always have *a* smell in their ears. It will never be 100% gone. It's just a smell.

It's hard to tell whether or not the product works and your definition of "smell" could be different from mine..

without actaully seeing,or in this case,smelling the dog.

"They" could be right,if the smell you and "they" are referring to is the cocker ear smell/odour.

But if the smell you are referring to is caused by an infection,then you could get some cleaner from the vet and work from there.
,-._,-.
\/)"(\/
(_o_)