RealityDreamer
Doggyman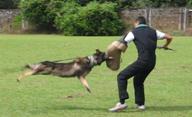 Sep 19, 2003, 8:59 PM

Post #4 of 52 (2553 views)
Shortcut

Re: [mochacappucino] How many tricks does your dog know?! [In reply to]
Can't Post

---
Silky: sit,down,stay,come,stop,shake hand,up,catch(not very good aim though),go up while pointing to the place where u want her to go,come down(down fr the bed,chair etc),shake,this way,heel,over, play dead, inside(while walking, go inside meaning go nearer to the side of the road, or go into the hse), out

Tyson: sit,down,stay,stand,come,shake hand,sit up,catch,speak,inside(same as silky),this way,heel,stop and out.

Hazel: just got her recently..and not much time to train her..only knows heel(abit) and stop so far.

upon signals meaning hand signals only? coz if that's the case..Silky and Tyson only know shake hand, down and stay.





erm...terms like to get the dog ready for walks counted or not?
,-._,-.
\/)"(\/
(_o_)



(This post was edited by RealityDreamer on Sep 19, 2003, 9:15 PM)