lisachew
Member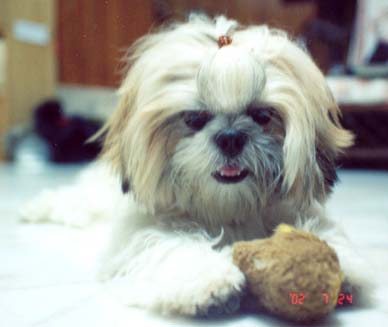 Oct 24, 2002, 6:24 PM

Post #21 of 33 (10378 views)
Shortcut

Yuki

I suspected that the reason why the ringworm still unable to cure is because it is still lurking around every corner of your house. ( scared you? hehehe)

Well, what my vet told me was that, I need to really clear (wash!!) his crate, toys, ..anything like cloths or furry stuff. We need to clear off the fungus everywhere in order to prevent it from getting more infection. Whereever he sat on or lay ..need to really clean it too. I guess what happened to you was that maybe the fungus is still somewhere in some place where you didnt overlook to clean it? If the fungus able to infect you.... and so on..i guess that you need to really clean his stuf toys, crate, bedcloth..etc??? (for the time being)



Dont let the fungus get around and round as it will be a never ending story.



ACtually, the medicne to be consume, I only gave him twice as I dun like the idea of him taking any medicine like that ...he look so drowsy with no mood.



SO i just rajin rajin apply the cream and also bath him with an anti fungus shampoo, with also one white liquid to apply on him to blow dry with it.

So now he is fine. Also thank God that I didnt get any of those!!!!



If the condition still persist, maybe I can bring you over to visit the vet that I mentioned? But then it is in klang...


Regards
Lisa

"A dash of lion, several teaspoons of rabbit, a couple ounces of old Chinese men, a bit of a beggar, a tablespoon of monkey, one part baby seal, and a dash of teddy bear." - shih tzu