Cloe
Novice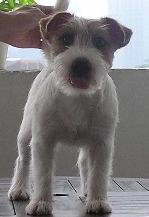 Sep 27, 2003, 8:30 PM

Post #12 of 12 (3896 views)
Shortcut

Re: [lynnzter] Parson Russell Terrier [In reply to]
Can't Post

---
Hi,

Do note that in FCI countries, the Parson Russell Terrier (used to be called Jack Russell Terrier in US) is a separate breed from the Jack Russell Terrier (the shorter legged, more patchy Asutralian imports).

In other words, PRT is PRT. JRT is still JRT. They are 2 different breeds.

However, under JRTCA (Jack Russell Terrier of America. www.terrier.com), PRT is still known as JRT. JRTCA is not afiliated with any kennel clubs and thus is not subjected to the name change.