netfrost
New User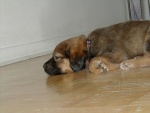 Jul 31, 2003, 2:13 PM

Post #1 of 9 (2086 views)
Shortcut

new pup crying in crate
Can't Post

---
I'm sure this has been posted before, but here goes.

We ended up saving a 6 week old puppy on Monday.

We decided to give her our other dog's crate in order to train her mainly because we are at work most of the day.

The problem is this, we put the crate in one bedroom isolated from our cocker and when I got home, I could hear the pup crying and yelping almost as if someone was beating her...

Took her out and brought her outside... and she was fine, till 2am... when she yelped to go potty.

Today, we thought we'd put the crate in it's old spot in the living room, so our cocker could keep her entertained.... well... I get a call from the neighbours at work today, asking if someone was killing a dog at my place....





I'm guessing that since she was taken away from her litter so young, she's not used to being alone all day, let alone in a crate... and that we should maybe leave her out of her crate for a week or so, just so she can get used to her new home and her new older brother, then start the crate training?


Any tips or advice would be appreciated.

Regards.