Peenut
Dog Kichi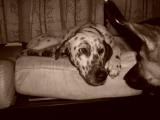 Apr 10, 2010, 2:43 AM

Post #11 of 13 (3393 views)
Shortcut

Re: [Knotidoc] Canine Lymphoma [In reply to]
Can't Post

---
Ummmm...

Guys, I would just like to say that my baby had tonsillitis... The "balls" in her neck were caused by an infectious swelling which now has subdued thanks to my vet/friend who brought the meds over in the middle of the night :))



As for food opinion and what not, I have to admit that my oldest (now three) didn't grow well on Smart Heart. She was my first one so I didn't know how to read the labels or differentiate one brand from another. Unfortunately, she is quite stunted which may be caused genetically, but all the vets I have been to have said it is most likely because of the food. When she was about 6 months old, when I took her to spay, we changed her food to first Eukanuba (for 1 week). She has an outbreak of eczema on her elbows that until this very day, she still has. Have tried putting on Vitamin E oil and cream and pretty much anything out there that helps, but no avail. The reason why this happened was because of the high protein levels and off-the-shelve supermarket food.

Knotidoc, I am sure you would know that since your knowledge is vast. I actually didn't until the day I had to treat that same baby of mine for indigestion as well.

Then we changed her to Sciene Diet and within a month, she shot up and her chest grew really broad. Because she did loose a bit of fur and I was worried, I changed to ProFormance. She has since been on it, never lost weight, never gained weight. 2 1/2 years after her spaying operation and she has not blown up like a balloon.

So, since her, none of my fur-kids have ever touched Pedigree, Alpo or Smart Heart again. I have had the bad experience. That is just us though. It is, at the end of the day, each to its own. Nobody gets judged for anything. Just personal preference. Like, nobody is going to judge a girl for choosing a pink thong over a blue one or a guy choosing a blue pair of boxers over a black pair of boxers.

No two of anybody's fingers are alike and the same goes for humans and even dogs.

There is no need to parade and prance knowledge around here. We are ALL giving our 2 cents worth. Don't like it, check out another thread that suits your taste more. There is no reason to get angry over an opinion, right?




No offense dudes!