crystalruby763
New User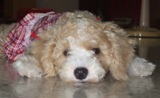 Dec 12, 2009, 5:15 AM

Post #1 of 1 (6083 views)
Shortcut

How to toilet train an adult dog?
Can't Post

---
I recently adopted an adult male Maltese. He been stay in the cage at the pet shop for more than 8 months, he is now 10 months old.
The main problem is, he doesn't know where to pee & poo, he did it everywhere and whenever he feel to. No matter how we beat or scold him, he seem don't understand.
Is there a way to train him? as he is already 10 months old and been stay in the cage for so long.