icey_melon
New User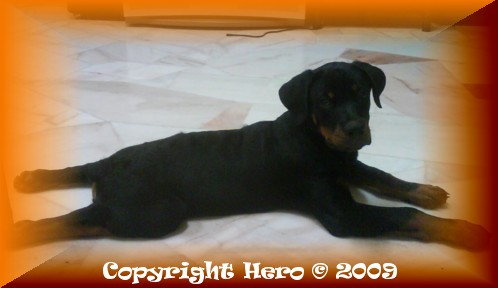 Dec 2, 2009, 10:31 PM

Post #1 of 2 (8059 views)
Shortcut

Dog biting Car's Oil Tank & Signal Light Wire [:/]
Can't Post

---
Hi all.

I have a problem with my Hero. He is a Rottweiler of 8 months old. Let me sum the problems up and if you have any suggestion do feel free to help.

1)Biting Is His hobby
He likes to bite although we did slap him when caught red-handed or become stern to him when he bit our shoes, sandals. Nothing for him to play? Got! One time I bought a RM25 BIG bone for him to bite, he 'dismantle' it within a day. I was like, APA MACAM!

Then I bought a pack of medium size bones, he bit it daily..Then, when nomore, he bite our sandals, flowers, plants, the cane we used to bit him, chair-legs, flowers, plants, carplate, car's SIGNAL-LIGHT WIRE, today, he did the most terrible thing. He bit our car's oil tanker. Noone noticed till car stopped in the middle of the road, Now need repair from RM3k to RM5k..very (-_-)""

2)Growling at owner, friendly with strangers

When he first started to growl at me, it was during his bathing time, I was bathing him GENTLY soaping him till i touch his paws, he growls n almost bit me. So whenever bathing, I cant touch his paws. He bites. And when eating, I know most will say "dont go near dogs when they r eating" but this is my dog wert, he should respect me and not growl at me when i was nearby sweeping the floor or filling in the water. It hurts when your own dog growls at you lor..

When strangers come in, he jumps at them happily. He can't differentiate who is family and who is not. Might as well i get labrador lor like that.aihs.

3) He pees like a female and lick his poops
I brought him out daily for a walk, to let him see and smell the environment, expose him to it. Got one time, a male dog pees in front of him(while behind gates) but he was like so happy and tried to lick the other dogs. I should be happy that he doesnt urinate everywhere to mark his territory but how to teach him to urinate like a male?

His daily walks involved him walking and smelling and licking poops if he finds one. Doesn't even urinate or poop.

I did a lot of research on Rottweilers. That we need to be the alpha. We need to show him who's the boss. I got ler.. But i think I must have missed something somewhere.

I want to bring him to a training center. But the one i found with boarding, is G-pet in Kota Kemuning. Super expensive(Now that have to fork out 5k for the car engine, totally cannot consider). The ones on puppy.com, my rottie is a big dog so, can't bring him to training area every weekend.

I've never had any problems with all my dogs before. Only this. I hope to settle this problem asap before my parents have any thoughts of sending him away! Anyone has any similar experience can share? Or any suggestions?