Peenut
Dog Kichi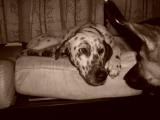 Apr 2, 2010, 8:18 PM

Post #3 of 3 (1111 views)
Shortcut

Seriously, didn't you do your background check on the puppy's parents, grandparents and other ancestry?

And even IF your puppy is deaf, would that be a crime? Why are you so worried?

Dalmatians are incredibly smart dogs. I have one. Even though her hearing is fine for now, I have trained her to follow and understand sign language as well, just in case. And guess what! She is absolutely amazing.

When I put up 1 finger, she knows that is sit. I put up my whole hand, that's down. If I point in a particular direction, she knows to go there. If treat or a chew toy is in the line of direction that I have pointed out to her, she will know to pick it up and bring it back to me. To me, she is like a human. Body language, sign language are an integral part to a healthy relationship.

She is amazing and what's even more impressive is that without noticing it, all my other dogs and even my cat have picked up on the teachings too. So, it isn't just dalmatians who are sleek beautiful creatures, they all are.

At this point, if you fear for your dog's hearing and are disappointed that she/he is not "perfect", then you don't deserve to have a puppy as great as what you have.

Imagine you were deaf, how would YOU want others to treat you?