benjac
New User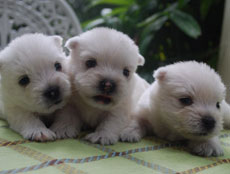 Oct 21, 2008, 4:01 AM

Post #55 of 67 (46572 views)
Shortcut

Re: [pennywise] Westie Owners United [In reply to]
Can't Post

---
I forgot my password and finally got it back. I havent been posting here for the longest time but if any of you westie owners are interested in a friendly place to chat, let us all keep in touch.

1. via Dogster, you can add 3 of my westies following this link: www.dogster.com/family/369521

2. There's a discussion thread on westie here at: forum.lowyat.net/topic/701874

Hope to see you guys there and am glad to see the westie group of owners are growing.

Wow wee, it's been such a long time! Maybe some of you arent here anymore but some newcomers just joined. Regardless, I hope we are all able to unite and have a discussion / gathering of westies.

Time sure flies and I dont know when I'll be back here again, from 1 westies to now 3. Come join us! :)



we're at lowyat.net now. thanks!