zephyros
Canine Addict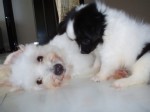 Apr 21, 2009, 4:37 PM

Post #3 of 3 (6488 views)
Shortcut

Re: [cityhunter] re: golden retriever puppy growth/picky eater [In reply to]
Can't Post

---
what food are you feeding ur golden? 10 weeks old is not really called picky. more like not used to whatever ur giving "maybe". Avoid switching food around often. No human food ie table scraps.

leave the food there for 10-15 mins, then remove it. do not leave it overtime for many reasons. ie insects and bacteria growth, more importantly, ur pup will think food is always available, thus taking this time to eat.

If ur pup is unable to bite the dog food kibbles due to the hardness, try soaking it in some hot water first then when it's warm to the touch let ur pup eat it.