ai_ney
Ultra ALPHA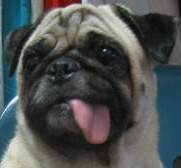 Feb 25, 2009, 11:21 PM

Post #3 of 7 (6227 views)
Shortcut

Re: [antony83] St. Bernard pup "snaps" at kids when he is sleeping!? [In reply to]
Can't Post

---
hi antony,

i think it is very important for u and ur kids to know and practise this rule: NEVER disturb a dog when he is sleeping or eating.

a dog will be startled when someone tries to wake him up when he's peacefully dozing off, so he may growl n snap trying to protect himself because he may think he's in danger...

some dogs are protective of food, so if someone tries to pat him on the head while he's chowing down his meal, the person puts himself at risk of losing 1 or 2 fingers...

also do not catch the dog unaware, like suddenly jumping onto him from behind... ur kids may mean well n only want to play, but to the dog, it's instinct telling him to protect himself...

pls do not 'get rid' of ur dog becoz i agree with u, ur dog is not aggressive, he's just acting on instinct...



Sookie's Photo Gallery
DON'T BREED AND BUY, WHILE HOMELESS ANIMALS DIE.
EVERY DOG SHOULD HAVE A HOME.