Ahsuah
Novice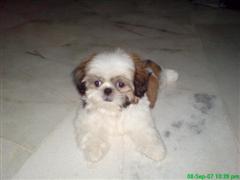 Oct 15, 2008, 12:19 AM

Post #1 of 5 (11956 views)
Shortcut

dog ear twitch
Can't Post

---
My lil furkid has been infested by ticks & i have applied Spot-on to him.

But, i noticed that last 2 days, he has been twitching his ears & scratching his ears.

So, I immediately took him to the vet for a check-up cos i suspected ear mites.

The vet gave me a liquid solution called dexoryl to apply. But, till now after 4 days he is still twitching.

I'm getting worried cos i read in the internet that its probably caused by Distemper. Can anyone share with me, if this could be that serious? Or it is just ear mites that are making my poor furkid itchy?

Thanks.