OmgPuppy!
Member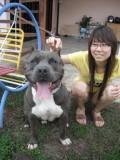 Nov 24, 2008, 2:19 AM

Post #56 of 58 (1451 views)
Shortcut

Re: [jinkazuma] American Bully Show in Penang [In reply to]
Can't Post

---
Jin, any difficulties in browsing ipitbull ? Can get in there with my browser. Can urs ?



Dead Game and Tryin' to Scratch...
Give me victory or give me death,
I will make history and gain your respect.
Take my lesson, or take my life,
Triumph is blemished in the absence of strife.
I have great pride, for I am unequaled.
Win, lose, or tie, there won't be a sequal.
Its unexplainable and seldom viable,
but I am dead game and thats undeniable...