OmgPuppy!
Member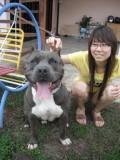 Jul 20, 2008, 7:09 AM

Post #1 of 20 (6094 views)
Shortcut

LOOKING FOR APB ( Dedicated For Kevin Chua)
Can't Post

---
Hola

. Guys, can anyone tell me where to get a pit bull ? Someone told me to get into this topic and look for kevin chua. He said Kevin is a big fan of pit bull. So kevin, can u help me out ? Mine budget will be around around 2.5k, with mka cert, Big bones, white or black color,big head shape.ear cribbed. Can i get that quality with 2.5k ? U all know la,walking with pit bull will make me look like Dai Gor ma . . hehe

. Kidding la. And i found a 8months pit bull for sale, for only 1.2k. As what that fella told me, its a 100% pure APB ( without cert) , So how can i tell if its a pure breed ? And da is it hard to look after a 8months old pit bull ? I'll attach the photo, take a look and tell me if its pure breed or worth it.Sorry ya kevin. . . suddenly so many questions pop out. U must answer me all wohh, can mou ? Pls la . . .



Dead Game and Tryin' to Scratch...
Give me victory or give me death,
I will make history and gain your respect.
Take my lesson, or take my life,
Triumph is blemished in the absence of strife.
I have great pride, for I am unequaled.
Win, lose, or tie, there won't be a sequal.
Its unexplainable and seldom viable,
but I am dead game and thats undeniable...