ai_ney
Ultra ALPHA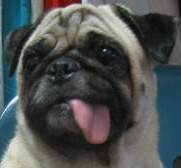 May 13, 2008, 9:57 PM

Post #2 of 59 (14079 views)
Shortcut

Re: [jacksontan] PUG - SKIN PROBLEMS - PLS ADVISE [In reply to]
Can't Post

---
hi, i hv a pug too!



most of the time, missing hair on elbows is because the dog is sleeping on cement or hard surface floor for a long period of time... is this the case for ur pug? if so, not to worry, there's a simple remedy for the hair to grow back - cut a handful of bayam (leaves n stems) very finely, boil in water with honey n olive oil, leave it to cold, n serve bayam with soup to ur pug, give this daily for a week or two, then twice weekly, u'll see results in 2 weeks - i've tried it with my pug n a rescued pug, the bayam works in making the hair grow back, but not as treatment for any skin problem...

as for the pustules, do get a vet to check it out to determine wat sort of skin problem it is...

i'm not sure if eukanuba is the best food to give a pug with skin problem, but if ur pug has no problem with the food then it's ok to stick with it... otherwise u may wan to consider switching to a more premium brand...

let me know if u need more info, i'd be more than happy to help out another pug owner n possibly meet up with ur pug too!



Sookie's Photo Gallery
DON'T BREED AND BUY, WHILE HOMELESS ANIMALS DIE.
EVERY DOG SHOULD HAVE A HOME.