DreamL6
Novice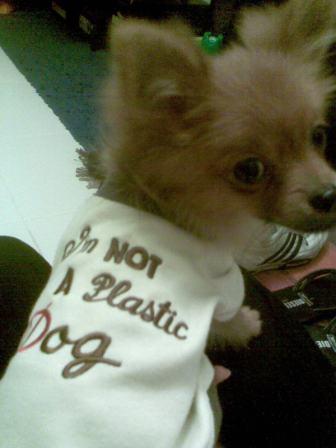 Apr 9, 2008, 7:09 PM

Post #9 of 22 (5188 views)
Shortcut

Re: [Veanne] Breezy n relaxing restaurant @ Plaza Damas [In reply to]
Can't Post

---
OMG, sounds so much like another senario i encountered, rich lady n princess daughter were in pet shop,

rich lady: i dont care, this dog cost me almost 4k (it was a precious looking shiba inu), you better make sure by the time i collect him in 3 months time he is potty trained, knows some tricks and is very very obedient. i dont wanna take him home now cause i killed one expensive puppy before.

shop assistant: but potty train must do at home.... cause diff environment and how did the last puppy die?

rich lady: i bath it and left it to dry.... it was only 2 months old, didn't expect it to catch a cold and die

rich lady's daughter who is playing with new puppy: mummy mummy, ewwwwww, its trying to lick me! make it stop make it stop!!! my make up!!!

me (in my mind): OMG OMG poor puppy......

rich lady: anyway, you just make sure everything ok. fully trained and i will pay. just let me know the cost

scary huh? i almost wanted to leap in, swoop the poor baby up and run away... the shop assistant also kinda looked like he wish he never sold them the dog....