ai_ney
Ultra ALPHA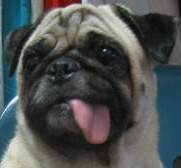 Mar 3, 2008, 8:28 PM

Post #3 of 13 (6034 views)
Shortcut

Re: [Veg] pls help pug with demodex [In reply to]
Can't Post

---
my pug has had skin problem on n off (mainly fungal infection), so i've also tried many shampoos, food, n spent a lot on vet bills... i hv no experience with demodex, but i believe feeding ur dog with good quality food will help with ur pug's skin condition... personally, malaseb is too strong for my pug, so now i'm bathing her with selederm, another medicated shampoo from the vet but it's much milder n so far it's good on the skin... i've heard n read some dogs were successfully treated from demodex... let me go read up on demodex now...

btw, which vet do u go to?




Sookie's Photo Gallery
DON'T BREED AND BUY, WHILE HOMELESS ANIMALS DIE.
EVERY DOG SHOULD HAVE A HOME.