myzanordin
ALPHA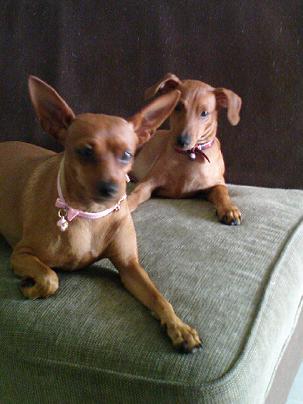 Nov 17, 2007, 8:18 PM

Post #2 of 5 (6873 views)
Shortcut

Re: [smokey774] My Pup kills kittens! Please Help!!! [In reply to]
Can't Post

---
Hai I have 3 dogs and 3 cats. 2 cats are matured cat (7-8 years) and the latest one is a kitten, probaby 2 mths old.

I have not had baby kitten before, so, I am not sure how u can intro them. Hwever, for my current kitten, yes, my doggies do play fight with her (which I got just befre Hari Raya). Dogs tend to become a bit rough, cos, they just donno their stamina...I am just lucky, cos, so far, no one gets hurt....in fact, I think they love each other's company. My mixed breed , love to play hide and seek with her...

I wld suggest, u have no choice, but to seperate them until the kitten is big enough to accept the 'roughness' or defend itself..u have to monitor the doggie and pull the kitten away....each time he approaches it...as long he knws that that is not 'food', it is still under control...it will take time, for the doggie to knw..the 'do's' and 'don'ts'...

In fact, weeks old cat, shldnt be playing or intro to any adult cat or more so, dogs....stilll too young for anything....yr dog probably think its a rat...or a toy...

Good luck to u...