my_crystal929
Enthusiast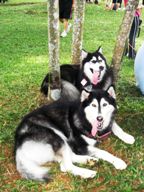 Dec 4, 2007, 11:53 PM

Post #2 of 2 (1747 views)
Shortcut

Re: [petsworld] Any Recommendation for Grooming Service for my Husky [In reply to]
Can't Post

---
hey..

how big is your husky? Rm40 is the cheaper price in town i think coz my roxy each time grooming+ shower RM80-100 at Sri Hartamas..twice a mth..sometime lazy once a mth..sometime i bath her myself if i m free, hahhahah...

where is the petshop you sent to?? how abt their skills? make sure is not those " ah beng, ah lian " type one ya?

i did experience once bf. I sent Roxy to one of the petshop located at PUDU (Corner unit). the petshop owner also a groomer dont even know what breed my dog is and trimmed her up overall body without my knowledge.

i told the counter girl just to trim on her certain part not overall body!!! I was damn angry and " WILL NOT RETURN" to that petshop again!!