Ahsuah
Novice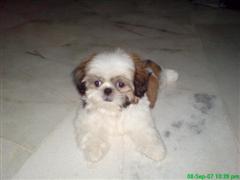 Oct 8, 2007, 5:26 AM

Post #1 of 8 (15412 views)
Shortcut

Pain after vaccination and heartgard jabs
Can't Post

---
My Roxxy, a Shih Tzu, just got back from his 3rd vaccination and heartworm jabs. The vet recommended me to get the annual heartworm jab which is easier for us to monitor, instead of giving him the tablets every month. So, this morning he got 2 jabs together, one after another.

Right after the jabs, we went home and he seems alright. Until later in the afternoon, I tried to carry him and he cried in pain whenever I try to carry him or touches him. I do not know what went wrong and I thought it could be the pain from the jabs.

But when I came home after my tea break in the evening, he cried even louder whenever I tried to carry him. And I'm afraid if I carry him, I will hurt him more. Thus, I just tell him that I'm not gonna touch him, but I will just give him some treats while I check on his pain.

I don't seem to find anything unusual on his body and skin. I'm not sure if the pain is from the jabs this morning. Can someone enlighten me on this pain my little puppy is having...

PLEASE.....

p/s: he still can play and walk as usual, as long as we don't try to carry him. And he's as playful as he is eventho he's in pain...