my_crystal929
Enthusiast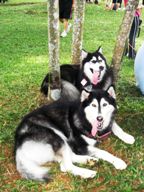 Jun 20, 2007, 8:56 PM

Post #1 of 1 (1095 views)
Shortcut

A disastrous adventure!
Can't Post

---


Bad news! my friend's GR has just been put to sleep by the vet due to kidney and liver failure. The GR was not even 4 months!!

This dog was brought home from a petshop in Petaling Street. The petshop owner always say that he has 20 over years of experience and very good reputation.

According to the vet, an experienced petshop owner would have known of the dog's health right from the start.

A little advise for those who plan to get a puppy:- Dont worry about spending a little bit extra money, just make sure you send your dog to a vet for medical check up. it will save you lots of heartache later on!! AND REMEMBER, DO NOT GO TO PETALING STREET!!