steffy1811
K9 Kaki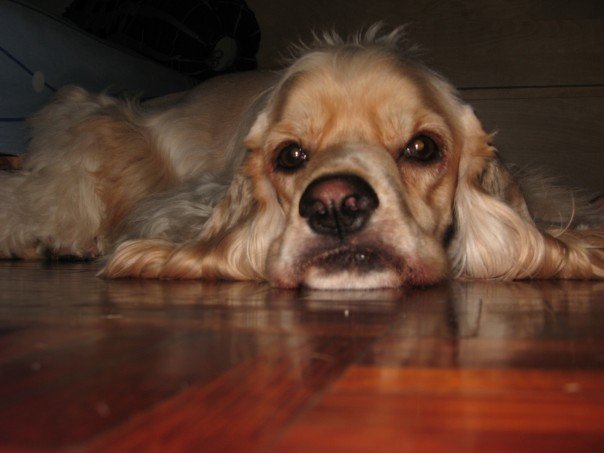 Jun 21, 2007, 9:09 PM

Post #7 of 8 (2854 views)
Shortcut

Re: [jennifer82] CRATE training at night, good or not good?? [In reply to]
Can't Post

---
yealah...train lor....when he was younger (Rascal), i malas wan to walk him 5 times a day mah...so at about 11pm i'll take him below my apt to pee only, after that straight away bring him up and lift his water bowl, don let him drink. No drink, no pee lor until next morning only let him drink and eat. Ya ya...some ppl call it torture cos i'm depriving a 6 months old puppy from having water, but that was not for long. After i've had 100% confidence that he wont do his business indoor then he gets the luxury of having access to his water bowl anytime of the day lor. I'm currently doing that with my younger puppy (gizmo). After he pee the last time say about 10PM, i'll lift the water bowl. It kinda works a little cos in the morning when i get up, at least i don find 3 or more different pool of pee everywhere near the toilet except in the toilet. This morning totally no pee pool anywhere out of the toilet.

Untill I have 100% confidence Gizmo wont pee outside the toilet anymore then only shall he get his access to the water bowl anytime he wants. Till then, i'll decide when they get to drink and when they dont.



Yes, when i go to work, i dump them in a big cage...... a cage big enough to fit a GR in it comfortably. hahaha yeah i was crazy to get such a big cage, i went hunting the whole of KL trying to get the exact same cage that i was using in the US. Finally manage to find it in 1U, model slightly different but same manufacturer. So burnt about RM350 on that cage lor. Then when i get back from work, I let the sliding door open wide, and both of them know how to automaticall run outside and get on the grass patch to pee and poo. Rascal is cage trained so he will NEVER EVER do his business in his cage. Gizmo is learning that from rascal but i don expect him to master it till he is older and have better control over his bowels and bladder. But so far he is doing good lah, at least he poo and pee on the paper and push the whole bunch of paper into a corner, then he'll go and stick to bigger brother. But surprisingly yesterday, he didnt poo in the cage, just pee only. So i praise him like crazy lah....hoping today when i go back, i don have to pick more black gold from the cage.



Wahh u mop everyday ahh....i only mop once a week. If he pees on the floor, just wipe with kitchen towels and squirt some dettol on the spot only lah and wipe. Kuasa lah mop everyday!! wahhh my back also give to them already everyday mop.

If room smells of pee pee or poo poo there's always Ambi Pur to help out or febreze. I have like 2 of those auto timer spray thing placed in the room and living room where the 2 fellas spend most of their time. So that helps eliminate the odor a little for those who are sensitive to it. If pee and poo very extremely smelly, there's a solution u can try, it's called OxyFresh, just add a capful of the solution to a bowl of their drinking water. That will help neutralises the smell of their urine. My dogs pee on the same spot everyday and my neighbors never complain. They even ask me,eh how come my dog's pee no smell one even though pee on the same spot everyday, it's the wonder solution lah...cant be food mah cos Rascal is on EVO, that should give smelly pee and poo mann cos high protein.

Aiya whoever that comes to my house or want to come to my house, me or my housemates always warn them first, I got 2 dogs at home and one of them pees everywhere when he is excited. They are the kings of the house and we're their maids. So they run free in the house when one of us is home. So if they still want to come, they better prepare themselves lah. Dont step into my house already and start complaining Smelly lah, Dirty lah, Fur everywhere lah, bla bla bla, i'll give them a piece of my mind then. I've already warn them. If you're sensitive to dog's fur or if dog's fur can give u an asthma attack and cause u death, then dont step anywhere close to 10feet into my house compound. If you're utterly terrified of dogs, better still, you're not welcome in. You can stand at the gate and wait for one of us. As long as i'm home or any of my housemates are home, we're not gonna cage our dogs just because ONE guests is terrified of them jumping on her/him.

As for the pee when excited, just ignore them lor. DOn get them excited then u'll reduce the chances of getting pee all over. But bear with it lah. It's a phase all puppies will go thru. I'm sure we as toddlers also pee everywhere when excited if we didnt wear diapers right?










*Rascal's Philosophy "Will give the world up for a good nap"
Gizmo's Philosophy "Mine Mine Mine. All is MINE. Sharing is caring..? Whats that?"