goofydip
Veteran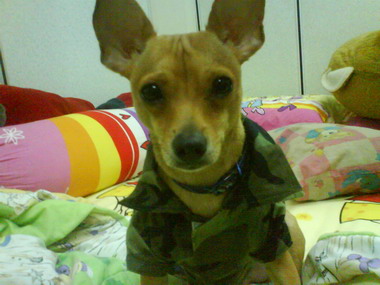 May 31, 2007, 7:57 PM

Post #17 of 104 (17844 views)
Shortcut

Re: [jessicaohh] Dog's Magazine [In reply to]
Can't Post

---
Every now and then, I had to check his tummy side lor, somewhere he can scratch and somewhere without fur, easy to see ma..

I have to use either a spoon or coin or watever similar, then put on some baby oil, then scratch his skin, need to be quite hard scratch.. cannot soft soft scratch, if not cannot see if there's really problem.. After scratch, wait a while see got red like last time or not lo (the skin internal bleeding, not normal rashes).. Goofy's blood is not that good (tak cukup pekat), that's y need protein wor..

About Sasha, I think if you don't see anything abnormal to her, I think not serious lor..u keep monitor lo..or if the 'pimples' really happen to bleed, then only to the vet lor..

Eagle pack, poo not so smelly ar? Now Goofy really susah, poo and pee also very smelly, especially pee..and once he kentut, aiyoh, sure u pengsan!!!

And yes I realized I have to mix his kibbles..But this very badboy, if I mix, he'll choose which one he like, and left those he not so prefered..then sampai he real hungry, then only he go back for it..and somemore dunno y now love to have watery kibbles, I have to add some water to his kibbles then only he eat, if not, he'll rather hungry till vomit gastric juice..



"don't be angry at me for long & don't lock me up as punishment. you have your work, your entertainment and your friends. I only have U"---from a doggie's voice