kid
Member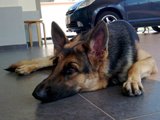 May 29, 2007, 9:44 PM

Post #4 of 7 (1312 views)
Shortcut

Re: [isaac] German Sherperd puppy [In reply to]
Can't Post

---
I'm from Penang & will be moving to Sungain Petani, Kedah soon. Colour? Its not really inportance but if got the colour that i prefer, y not? hehe...

I know there are some good working line gsd breeder in JB but seem they only let go male gsd. And it seem kind of hard to get good female. hmm...

Hip & elbow i also no idea, esp when its still a pup. So this is a problem, i have to depends mainly on the breeder.

nerve and drive? Hmm... i read a lots that call to test. Again i dun really know how to test. Also depends on breeder

health again i have to trust on the breeder. So that is y i wish some1 here can intro a good and responsible breeder to newbie like me.

i know bloodline is inportance, but again i dun really know. I'll tell the breeder on what i need, hopefully the breeder can get me 1 gsd that suit me. i'm looking for a stable family pet GSD.

Thanks for your reply.

Where are u from?



bro,

where is sp and pg?? curious la. as for gsd. red sable?? i think kinda hard to find. for working line- there are some in jb too. where is your location? maybe i can point you to the right direction. myself is into showline. stuff to be on the lookout=

1. hip- is the parents hip certified?

2. elbow- i think this is not so rampant yet, compare to hip. so dont worry so much.

3. color- personal preferences la.

4. nerve and drive- very important. test and test the pups. even test the mom too. she is educating the pups for 8 weeks so she will left a huge imprint.

5. health- hard to say la, so must be a good and responsible breeder. those that are willing to stand beside the pup if there is any probs.

6. bloodline- very important- the bloodline is the foundation and something for you to look back and compare.