Lady Eloise
Dog Kichi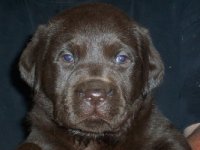 Apr 23, 2007, 11:51 AM

Post #8 of 11 (2056 views)
Shortcut

Re: [tanmoon] How to train my babe poodle [In reply to]
Can't Post

---
I just get a little poodle and right now i want to train her how to do her business at the toilet. The problem is I don't know where and how to train her. Anybody can help me to solve my problem. Right now she just pee everywhere inside the house and i just keeping cleaning the floor. HELP ME before my sister coming back in a one month time.

I try to train her before but maybe my toilet was too far from the living room so she cannot locate it. Another thing is only when i bring her to the toilet she will pee and poo at there but if i not bring her she will do it anywhere. I just want to learn the proper way to train a dog to toilet.


Establishing a routine with your dog is essential to good training. Your routine should include feeding times, bathroom breaks, playtimes, training and timeouts.

Having a young pup is just like having a small child when it comes to potty training. Young pups, just like young children have very underdeveloped bladders. A young child does not necessarily know when they need to go to the bathroom until they are doing it. The same thing applies to your young pup. If only it was as easy to control your pups peeing on the floor as it is to control your child's peeing on the floor. Your child generally wears a diaper if they are not potty trained, but putting a diaper on your pup is very impractical and darn near impossible. How long do you think a diaper would actually last on your pup's backside before it is ripped off and shredded? If your pup is anything like mine, about 30 seconds. There is an easy way to know when your pup may need to go to the bathroom. Depending on your pup's water intake, and amount of exercise, this chart can help you keep your floors and carpets protected from your pets bathroom habits.

Approximate age to hours your pup is able to hold their bladders starting at 8 weeks of age, (General time your pup will enter your home to begin your lives together.) 8 -12 weeks of age (2 - 3 months of age) = 30 mins 12 - 16 weeks of age (3 - 4 months of age) = 45 mins to 1 hour 16 - 24 weeks of age (4 - 6 months of age) = 11/2 to 3 hours 24 - 36 weeks of age (6 - 9 months of age) = 31/2 to 6 hours 36 + weeks of age (9 months to 1 year+) = 6 to 10 hours.

These times may vary with your dog. Different breeds mature at different times in their life. A small breed dog matures faster than a large breed dog, so your large breed dog may need more frequent 'bathroom-breaks'. It is always a good practice to take your pup out every 30mins to 1hour when you are home, even when they are older. Repeatedly letting your dog out will solidify your training efforts. When training your pup to go to the bathroom outside it is good to establish a routine as well as some familiar words to coach your pup into the right behavior. Every time you take your pup outside to go to the bathroom use the same spot as much as possible. The familiar smell of their urine will help them recognize that this is the spot to 'go'. When you take your pup outside to 'go', say to your pup, "Go pee." or some other similar phrase over and over again until they actually start to go.

With using this phrase over and over again the dog comes to realize that this word means to 'go pee' and you will have a dog that will pee almost on command. When they start to 'go' use the phrase again with a 'good dog' added. Give your pup lots of praise when they are done and possibly a treat. Praise is one of the most useful training tools you can use. Dogs respond better to praise than yelling. Just like us, dogs like to be praised for something they do right and strive to achieve praise.

With established potty times, using the 'go pee' words and lots of praise your pup will come to understand where it is acceptable to 'go pee' and where it is not. This will make your life a lot easier and your bond between you and your dog will grow stronger. You should never give your pup the full run of the house, even when you are home, and never when your not home.

Set up a medium to large crate for your pup in your house. If you don't have a crate, a bathroom or laundry room will do, any place in the house that has easy to clean floors. Place towels or blankets, food and water bowls, a few toys and newspaper or absorbent 'doggy' pads in your dogs space. This area should be warm and inviting to your dog. Just like us, your dog needs its own area to relax. Giving them this space gives your dog a place to go when things become stressful for them, like when you have company over that may be to loud for them. This will also restrict the area your pup has to make a mess. It is against a dog's nature to urinate or defecate in the same area they sleep in. Give your dog a big enough space so that they can 'do their business' away from their sleeping area. Some people take their pups out for long walks to tire them out before they leave them home alone.

Extra exercise requires extra water intake, which will increase your pups urination and accidents in the home when left alone. If you feel the need to exercise your pup before you go out, do this a good hour and a half to two hours before you plan to leave. Let your pup out a few times before you leave to make sure they have emptied their bladder as much as possible.

Remember your pup will have accidents, but with a little time and effort you will have a happy new addition to your family and a clean comfortable home.




Dog behaviorist.

(This post was edited by Lady Eloise on Apr 23, 2007, 11:55 AM)