my_crystal929
Enthusiast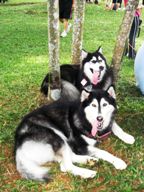 Aug 1, 2007, 6:50 PM

Post #27 of 28 (3662 views)
Shortcut

Re: [zhung] Saint Bernard Puppy!!! [In reply to]
Can't Post

---
hi zhung



just asking whether you have found ur St. Bernard puppy?

Imported AKC st.bernard puppy is abt RM7-9K, puppy alone is abt USD 1K-2K, the rest is Shipping cost, air ins.. no jokes. is not advisible to buy puppy online unless u hav plenty of money to go there and choose. otherwise you may receive " not good quality" puppy (normally good quality they will keep by their own) by the time is too late..money and puppy also gone, although they can provide you a year health guarantee but how much are you goin to pay for travel again? wasting time also ...

anyway, i know a reputable breeder who owned St. Bernard in KL..got puppies 3 mths ago.. if you really want, i can check for you...