bebeannie
Novice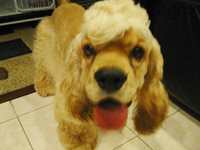 Jan 17, 2007, 6:38 PM

Post #1 of 1 (818 views)
Shortcut

cheap hotel for dog
Can't Post

---
hey... Do you guys know how much it will cost if let doggy boarding in the petshop in chinese new year?

i ask few.... they cost RM30 perday ( included food ), some are cost RM40 ( but this price only while Chinese new year they clost shop la ( for the 4-5 days maybe )

is it the cheapest is RM30? anyone below then this?