jessicaohh
ALPHA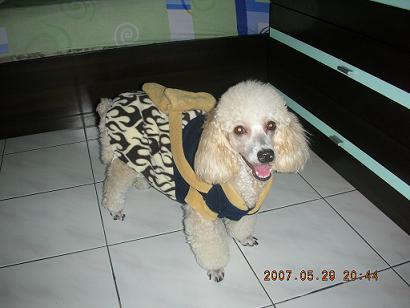 Nov 15, 2006, 8:41 PM

Post #7 of 10 (1298 views)
Shortcut

Re: [carriepg] Train pee poo in condo [In reply to]
Can't Post

---
hi,

i guess it's just a matter of 'getting used to it'..perhaps your dogs are not used to the new environment. i suggest that you don give up your dogs so soon...give them some time to get used to the new house...as much as we need to adjust ourselves to our new home, the same applies to them as well...

if i'm not wrong, all your dogs are >1year old? if they are, then theire ability to control their bladder will be better. i will suggest you to let them pee once before you go to work (i.e when they wake up in the morning) and another time after you come back from work.

as for me, i trained my puppies to pee/poo in toilet too. and when i go to work, i put them in my room (actually they sleep with me in my room). i just put the playpan at the door of my room. so they cant go out from my room but can still see outside lo...n i leave the toilet door slightly open. so they can go to toilet anytime of the day. but it really depends on where you keep them when you are away.

the reason your dogs are making noise when you are going to work might be due to she doesn;t wan to be locked up...when u were in landed house, you crate them when you go to work or they can roam freely?

pls give them sometime to adjust themselves to their new home and new routine...don give up on them so soon ya!



---

View my blog in Sasha's Blog and don't forget to sign my guestbook!

They are not 'Just a Dog'
They are my FAMILY!!!


Sasha, Sze Ern N Sheena