SupaMolly
ALPHA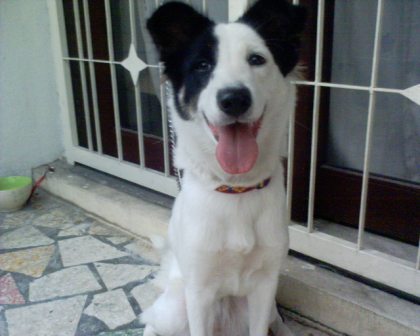 Jan 27, 2007, 12:02 AM

Post #113 of 114 (3463 views)
Shortcut

Re: [Sydney] Do you dress up your dogs during events ? [In reply to]
Can't Post

---

sydney,,

u guys got use gloves to touch the eye balls ah? or use bare hands? is very biohazardous to touch with only bare hands.

sydney responds to 'fatty' and 'mustard'.. then means he know he got 3 names? haha !

he looks really like mousie.. cute one and long haired mousie kakaka ! cute eh wei



if sydney enjoys ur bully, then is still ok if u bully him

he mite think u playing with him lol!

HAHA tat wat i owes hear from my frens.. then i will tell them : i got feed her a lot cus she a very dedication dbkl . she actually wallaps a ful cup of kibbles within secs.. haha ! everytime i feed her, i just turn ard to pack up the kibbles, then see how her appetite, then see nothing left.. But then, she like this suppose to grow fat horizontally, but it seems not.. molly's growing pattern is towards vertical, and not horizontal. tat y she never grow fat, but she grows long long

i tink i should buy babywear and not kids wear for molly




My beloved Molly looks like MooMooo

My beloved Snoopy makes 1 of the funniest beagle in the world

My beloved Lassie is the teh-est sheltie although he is a male !





Molly Gal : 16 June 2007 | Snoopy Zai : 4 Jan 2010 | Lassie Zai : 23 April 2010

| Husky Zai : 24 Jan 2010
------------------------------------------------------------------------------------------------------------------------------------------------------------


Photography Business Website coming up soon ^^