samo
Novice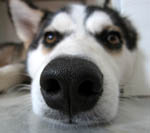 Sep 28, 2006, 11:14 PM

Post #28 of 32 (670 views)
Shortcut

Re: [filet0fish] Anyone with Siberian Huskey?? [In reply to]
Can't Post

---
see... that's also my worry. her being spoilt all the time. i mean, we can't help it.



You'll notice that the pup is stubborn and slightly tougher than other dogs. That's why its recommended that owners should be firm with their Huskies... I think you are progressing well by socialising Kosmos with other pooches to subdue her dominance and aggression...

Megan - yeah, it was you with the Husky on parade. We were chilling out at the other end of the lake when the announcer mentioned a Husky on Parade.. Really cool! I took a coupla shots of yer pooch... The first picture in the "Husky RULZ!" thread was hers..



Sam
have dogs will travel...