Kevin Chuan
ALPHA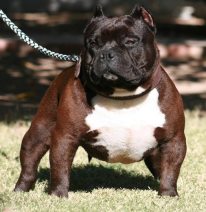 Dec 14, 2006, 2:50 AM

Post #23 of 39 (2525 views)
Shortcut

Re: [tuckfook] Beagle Bitch -wanted. [In reply to]
Can't Post

---
Hi,

I'm not far from Cheeseman road, near the GH, opposite Island Hospital, behind YMCA. There is a Eurasian family that lives in Kennedy rd.(I think) that goes hunting too! Family name - Theseira.

There are many illegal things happening to wildlife in Malaysia. There is nothing much the rangers can do about all this as it is done by friends, relatives etc.... so they turn a blind eye.

Rangers know that tigers are being sold but there is little done to curb that except when they do catch a Chinese middle man who's not able to settle the matter with a suitable sum of Rm. Then it get to the newspapers and courts.

Tuckfook.


Hi Brother,

I see... I do not know the family you mentioned.., my house is at Thorpe Road... just beside Kennedy Road.

What are the best ways to cook wild boar... as far as I concern, my family only know to cook in Curry Rendang stile..., they told me deep fried with black pepper and Or Tau Yu plus some sugar and bassil leaf added also nice... but I never tried before.

Seems like you go hunting every weekend..., have you ever hunt at Penang Island? I'm sure there are some hunting ground over at the island too. right? I've seen people selling wild boar meet at Air Itam market.

Can you hunt Civet Cat? If you can... there are plenty of civet cat roaming around our taman at night... I guess not less than 20 civet cat at the housing area where I stay. The comes out at night and ran into the ceiling and making noice til my dogs bark none stop...

hehehe! if you can... there will be a hunting ground for you as well, coz you don't need to travel so far.... hahahaha!