phekling19
Member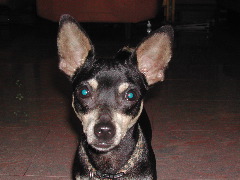 Jul 24, 2006, 11:46 PM

Post #1 of 5 (2582 views)
Shortcut

Watch out for the Dog-Eater- Vietnamese!
Can't Post

---
I lost a few dogs already! In Butterworth, Penang. Lately a lot of Vietnamese workers around my living around...Every evening after work they will walk pass my grandma's house. I have a few mongrels there. Mostly they came to my grandma's house by themselves. One of the pup we fed him until healthy and fat, one day, suddenly had no sight of him. Usually always sleep in front of my grandma's house, he would go to the bush there wee wee and then come back. One day...he didnt returned! Then my neightbour's female dog gave birth to 7 pups, 5 fat fat one got stolen from Vietnamese.

My grandma's neightbour told me he might have stolen and eaten by the Vietnamese already. :(( It's not that we simply blame when we lost our dogs. This never happened before until the Vietnamese came and work for the local factories.

My brother told me the Vietnamese eat dogs because they are so poor here...they dont have money to buy food, so they ust catch some stray dogs and cook. It's true! My brother's Bangladesh workers told my brother they saw Vietnamese catch dogs and bring back to their 'house' and slaught! They will use a stick or wood to hit the dog faint, then pour boiling hot water on the dog to remove hair... :(( So CRUEL!!!

So, if your living area got Vietnamese, please watch out! They might sneak into your house and get your dog...
A Hopeless Dog Lover and love dogs as if no tomorrow ...

NO CRUELTY TO ANIMALS


www.dogster.com/?188399.