jessicaohh
ALPHA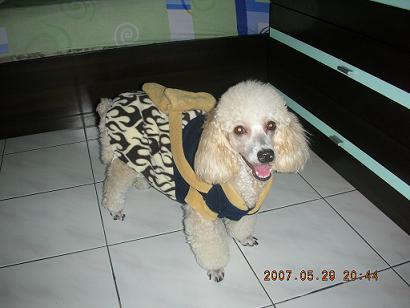 Jul 18, 2006, 10:16 PM

Post #1 of 7 (1338 views)
Shortcut

Do we need to 'botak' our furkids for the first time when they are puppy???
Can't Post

---
hi, i hrd from some ppl that it will be better if we 'botak' our furkids when they are young so that when their fur grow again, it will b nicer....issit true? must we really 'botak' them? won't they catch a cold easily?

or can we just trim them? some advises me that when we do it young, it wont be so ugly...but some even said that we don really 'botak' them at all.....just groom with some shapes will do......when the hair is short, it will eventually be curly...

fyi, i'm hving a toy poddle and my pup has never went for any full grooming before....i'm going to groom her this week but cant decide if i shud 'botak' her or just cut her fur short...pls advise!

thanks in advance!!!

---

View my blog in Sasha's Blog and don't forget to sign my guestbook!

They are not 'Just a Dog'
They are my FAMILY!!!


Sasha, Sze Ern N Sheena