wibbly
Dog Kichi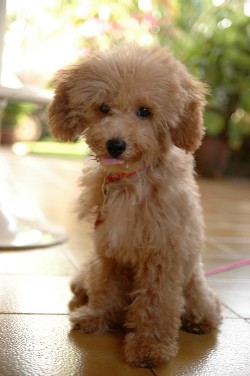 Dec 3, 2006, 11:23 PM

Post #5 of 26 (15347 views)
Shortcut

Re: [JoeSmith] Bark, Bite and Jump on Ppl..aggresive???? [In reply to]
Can't Post

---
The good news is that it is a puppy and that this behavior can be corrected. You have to show that you are the boss, in dog language that you are the alpha dog. You are leading the pack and no discussion about it. That means that you have to say very firmly and very stern NO when you do not like a certain behavior. You have to be consistent and not one day it is OK and another day it is not. This will normally do the trick and your dog will learn the rules, means he will learn what is accepted behavior and which one is not.



Dear Joe Smith,

I have the same kind of situation with my puppy poodle, also 3 months old. Everytime I approach her (to pat her head, to hug her, to play with her etc), her reaction is to open her mouth and bite me.

I have tried the stern "No" and ignoring her method, the yelping "ouch" loudly approach and holding her down by the neck and chest method but all to no avail. When i ignore her, she js bites harder and if i walk away, she chase me to snap at my feet. When i hold her down, she'll struggle a while and then keep quiet. So i'll release her but immediately she comes at me even more aggressive than before and snapping at me like a psycho dog. Any other suggestions? Could it be that she's not properly socialised? I havent brought her out for walks etc as she hasnt finished her vaccinations yet. My husband and i work, so we let her out to play with her a couple of hours in the morning, during lunchtime and evening when we're back from work. Is it separation anxiety?

Recently, I introduced her to wearing a harness and leash so i can bring her for pretend walks in the house. Maybe she doesnt like wearing the harness but she seems even more aggressive now.