jessicaohh
ALPHA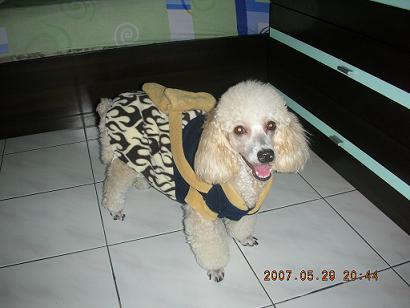 Jun 8, 2006, 1:10 AM

Post #6 of 18 (1445 views)
Shortcut

Re: [janiceC] Looking for a female shih tzu [In reply to]
Can't Post

---
Thanks for the reply. I just bought a poodle from a pet show last saturday. However, she is sick and I have to return her back to the pet shop. Now, I am waiting for the pet shop to exchange a new pup for me.

Troublesome as it is, I don regretted for meeting, buying and taking care of her. She is such a darling to me although I have just got to know her for a few days.

Till now, I can;t really say whether it is not good to buy from a pet shop. Just that we have to be careful. Some lucky people will get a healthy pup. It's very hard to say.

Sad as I am now, I am glad that I have a chance to take care of her and hope that she will not suffer.

Anyway, I guess when we have a love at first sight for the pup, what more can we do right?



---

View my blog in Sasha's Blog and don't forget to sign my guestbook!

They are not 'Just a Dog'
They are my FAMILY!!!


Sasha, Sze Ern N Sheena