Kevin Chuan
ALPHA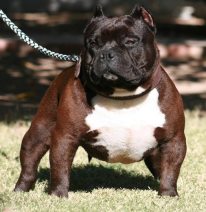 Apr 11, 2006, 12:16 AM

Post #9 of 1353 (51306 views)
Shortcut

Re: [glng675] American Staffordshire Terrier & APBT Lovers [In reply to]
Can't Post

---
To All My Peng Yu in this forum,

Dingo is in a very critical condition now, whether she can make in or not is depends on her desire to carry on her life now.

I put her on stud last week, but due to some reason, her back bone was injured and cause her back legs paralise. Took her to see vet last week, the vet gave her some steroid (which the vet shouldn't do), and maybe due to the steroid she took, after 2 days treatment with steroid her condition turn worse...... she can't even eat and she seems become weaker and weaker. Therefore, I sent her to the vet again this morning, after checked by the vet, I was told to be prepared.... the chance of her to make it is less than 50%.....

I received another bad news just now, Ng's male boxer has gone just now.... feel very very bad to hear that.....

ERN... help to me to keep an eye on any AST for sale in KL, I mean nice one..... I have to buy another female to replace Dingo just in case.

Jack_MBT.... Please do help me on the above mentioned also. I don't mind if it is APBT as long as the head must be big.

Ng... I think we should make a trip tp Taiping liao......, hope Eric still have AST pups left.