phekling19
Member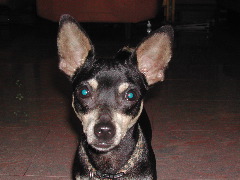 Jul 26, 2006, 4:12 AM

Post #7 of 69 (14141 views)
Shortcut

Re: [egretaus] bad impression in PAWS [In reply to]
Can't Post

---
Maybe you encountered bad expereince but I can tell you, so far only PAWS doesn't euthanize dogs. They keep as long as they can...unlike others they put the dog to sleep after certain period of time. Or, the less cute one or they think no potential for adoption, they will gun-shot to death. See, like that call "caring for animal"...I dont think so. I have been to a few animal welfare, only PAWS doesn't euthanize dogs. AND, only PAWS take in stray puppies or dogs. If you bring to SPCA-Penang, they will not bothered you. Well....we go to these welfare to do good deed...not to get mad with the people. Just, ignore them.,..we go there to help the animals, not the people!
A Hopeless Dog Lover and love dogs as if no tomorrow ...

NO CRUELTY TO ANIMALS


www.dogster.com/?188399.