nazaj
Novice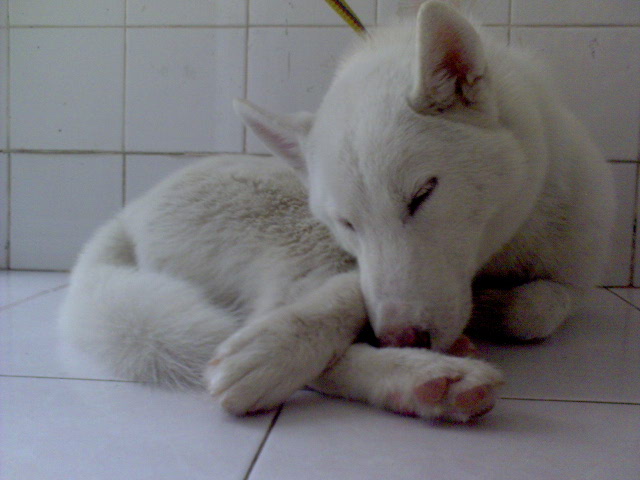 Feb 23, 2006, 10:06 PM

Post #21 of 22 (2323 views)
Shortcut

Re: [babyeskimo] Huskies Fans, need u guys help [In reply to]
Can't Post

---

Hi there,

Aiyo..

who selling so cheap, RM900 is good bargain d.



Yes..i own my white husky

. I won him befre CNY. Tell you what, he bring so many touble to me, but he bring so many extra happiness and lucky to me as well. Initially, he is so naughty that eat all my mother 's plant, digging and breaking up all those vase. I was like, oh my god ..

how come he is like this. And my mom is piss him off . Nobody like him. But now is totally diff. He is still naughty like last time(mayb he born to be like dis), but i train him so much, do some precaution step. After a month now, he can pee poo in the bath room and he is so so clever. I just love this breed. I named him ~ OREO, my white warrior!



As you can see it in my uploaded pic. It tooks on 4 months old.I try to upload more pics but failed to do it? I also donno y?

I agree with you that your are talking bout ur uncle husky. I prefer them to have a good home instead of selling them high.

I have a question prompt out for you guys! my husky now already 30 weeks old, but until now i still not yet receive the cert. The petshop owner told me that the cert is still processing. Is this procedures take time?