pinstripes
Novice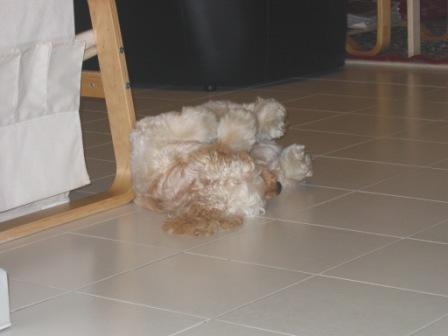 Jan 16, 2006, 11:47 PM

Post #13 of 14 (1912 views)
Shortcut

Re: [catchuah] Puppy-no signal before pee/poo.. why? [In reply to]
Can't Post

---
Joe...
Thanks again.
Yes, i tried to catch him when i see him with the hunchback before he poo.. but when i said NO and then carry him to the right spot... it killed its urge to poo...

as and for pee, i shout NO and carry him to the place.. he wil end up peeing all the way from the wrong spot to the correct spot.
HEADACHE.


Never say NO or move/startle the dog when it is doing it's business.

When you tell him a firm "NO" when not going at a designated spot, you are giving the puppy a wrong message.
The puppy is understanding, "my owner is yelling at me whenever I go pee/poo.
Saying no will only put you further from achieving your goal. You will only make it hesitant to do it's business in front of you or people, he will think, doing his business is a bad thing.

Giving confidence to a dog is the KEY to all training.

When the puppy accidentally poo/pee at wrong spots:

1. Never yell at the dog: Simply say nothing, place a newspaper on his pee/poo and let him smell it without your help(don't worry, he will definitely come to smell).
Once he has done so, just clean up the spot as if nothing is wrong without creating any fuss.

2. ALWAYS praise the dog when he does his business at the right spot. Tell him "good boy." many times.
This is only effective when you catch him in action. The puppy will become confident and will in time develop a healthy system.

3. Always say "pee" or "poo" when you see him in action as well. This way, when he is bigger, he is able to correlate your words to his action and will understand what you want him to do when you need him to go.

4. I have a ACS as well. ACS will NEVER, NEVER want to do his business where he sleeps and rest(although this goes for all dogs). Using a Crate to housekeep a dog is the best solution.

5. Start off with alot of newspaper and in time make the space smaller and smaller. If you wish to to have him pee at a certain spot. Move the newpaper(to where he mostly pees currently) slight each day bit by bit until the designated spot.

All puppies are bound to cause accidents, even when they are no longer a puppy. So don't give up. Eventually they will learn and adapt.

Also, daily walks will definitely help the dog housebreak faster. My ACS will hold his until it is time to go for a walk.

Also, to first time dog owners, please do not confuse all peeing is having to do his business.
Sometime, the dog is merely marking his territory(new environment, new item in house, etc). Just don't give up on the dog, that the worst anyone can do to the dog.