koolfang
Member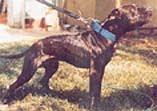 Jan 21, 2006, 5:37 PM

Post #10 of 11 (1039 views)
Shortcut

Re: [kaerb] opinions, anyone...? [In reply to]
Can't Post

---
hey,

haven't heard from u here for a long time. u coming down melaka for the holiday...? there are few new pits around and nice ones as well...

wow, jack is stout. not bad looking. the typical big and short pit. botsog has very good structure, i think. really big bones and head for a 10 week dog... for a show pit, i think it should have more colour but as u know, that's not very important rite...

my guess is that jack might be from the neighbour uncle and botsog is the one coming in rite...?


- its not the size of the dog in the fight, its the size of the fight in the dog...