nicky_spykeaz
Doggyman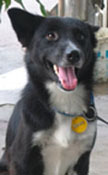 Aug 12, 2005, 8:48 PM

Post #28 of 33 (2969 views)
Shortcut

Re: [a_evie] Jungle Trekking @ Tmn Pendidikan Bkt Gasing on August 6th, 2005 - ROUND 63 !!! [In reply to]
Can't Post

---
yeah this morning, got abit wind so it wasnt so hazy in my area but now afternoon back again...i drive to cyberjaya this morning, it seem better but on my back, tak nampak again..throat burning liao...





Cheers ya,

Nicki the Devil live by the reputation of the name



boBby is a craz3 car PassaNger
Fat FaT other case Elegant Car GuEst
What make Me?
A LoYal huMan Driver....



NoBody is Prefect, Guess What i am Nobody
Nice to meet YOu

(Bobby+Nicky craze JT memBer)

BoBby San DogstEr
http://www.dogster.com/?158414
http://spykeaz-devil.blogspot.com/