jessicaohh
ALPHA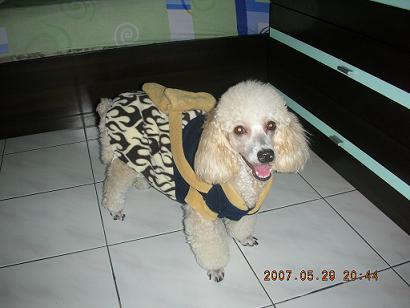 Nov 16, 2006, 5:01 PM

Post #17 of 27 (2859 views)
Shortcut

Re: [gofey] Help ! Help! How to train my MS pee poo in toilet ? [In reply to]
Can't Post

---
hi gofey,

just wondering...have you just gotten your puppy or she has been with you for a month d? if she has been with you for a mth d and all this while you have been letting her sleeping in your room (which you don wan), then of course she will make noise when you leave her outside to sleep.

if she is new to your house and u don plan to let her sleep with you, then for the first few nites, let her sleep outside. ignore her even if she bising. soon she will get the idea that it's no use for her to bising.

but personally, if can, i would like to sleep with my doggies la...which i did!



err..wait wait....you tie her up when you are sleeping? i think better don...you will run into the risk of she being strangled by the leash....since she is still young n not fully toilet trained, you can crate her. she will make noise initially but like i said earlier ignore her when she make noise...but once she keep quiet, praise her...

as for the training part. you have to be consistent. at nite, crate her. but before going to sleep, let her pee first lo..use a consistent command and a fix place for her to do her business. after she did her business, praise and reward her. the first thing in the morning, let her out from the crate, and bring her to the toilet place and do the same again....

pls remember that puppy so young will need to do business frequently...after every meal, after play, before sleeping and after waking up...when she did something wrong, it is not advisable that you beat her. if you beat her, she will be confused as to why you beat her each time she pee/poo...and then she might do it when you are not around which will only make matter worse. if she did it wrongly, you can scold her.show your displease and if can, bring her to the rite place. if she does it correctly, then praise and reward her...

just remember to be patient and consistent during the training...i'm sure your puppy will soon get the idea.



HAPPY TRAINING YA!



---

View my blog in Sasha's Blog and don't forget to sign my guestbook!

They are not 'Just a Dog'
They are my FAMILY!!!


Sasha, Sze Ern N Sheena