Beauty_n_Lee
Novice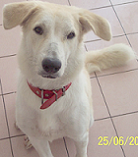 Jul 12, 2005, 8:22 PM

Post #1 of 2 (985 views)
Shortcut

Looking for dog from SPCA?
Can't Post

---
Hi

,

If you want to adopt any dog from SPCA, please consider adopting my dog. I've adopted her 2 months ago and paid all the fees, done all the vaccination. You will save on the adoption fees as i am just looking for a kind person to care for my dog.. not asking any fees.

For more details, you can refer to my post in this forum, under Dogs Rescue and Adoption - Urgently inneed of a loving home for this doggie.

Or you may call me at 012-231 9087.



Me : Agnes


Hubby : Terry


Doggie : Beauty