nicky_spykeaz
Doggyman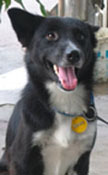 Jul 3, 2005, 9:22 PM

Post #3 of 11 (14503 views)
Shortcut

Re: [JoeSmith] Recommended Dog Training Books? [In reply to]
Can't Post

---
oh yeah...this also the question i wan to ask..

Okie..be more specific,
I have 3 mixed breed, 2 can train now...
Bobby 16 months, dont hook on toy and food if can train will be the best,
Now we have Benjy 4 months, hook on food
Want them to learn trick like high 5, turn around, talk, play dead and etc..any book to recommend me??



Cheers ya,

Nicki the Devil live by the reputation of the name



boBby is a craz3 car PassaNger
Fat FaT other case Elegant Car GuEst
What make Me?
A LoYal huMan Driver....



NoBody is Prefect, Guess What i am Nobody
Nice to meet YOu

(Bobby+Nicky craze JT memBer)

BoBby San DogstEr
http://www.dogster.com/?158414
http://spykeaz-devil.blogspot.com/