nicky_spykeaz
Doggyman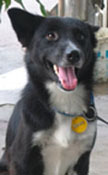 Jun 25, 2005, 6:38 PM

Post #16 of 19 (8030 views)
Shortcut

Re: [minglmy] Jungle Trekking @ Bukit Gasing, June 18, 2005 [In reply to]
Can't Post

---
hehe,,never mind..cuz today when we Bobby to Bukit Gasing, thought will be treking alone..but surprise, Groovy, Duchass. Yen yen, Max, Hana and etc was there..so we have plenty of fun today...
Thank any way...

Cheers ya,

Nicki the Devil live by the reputation of the name



boBby is a craz3 car PassaNger
Fat FaT other case Elegant Car GuEst
What make Me?
A LoYal huMan Driver....



NoBody is Prefect, Guess What i am Nobody
Nice to meet YOu

(Bobby+Nicky craze JT memBer)

BoBby San DogstEr
http://www.dogster.com/?158414
http://spykeaz-devil.blogspot.com/