Kevin Chuan
ALPHA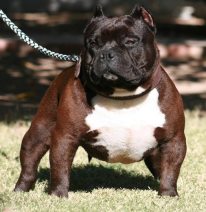 Jun 16, 2005, 10:28 PM

Post #4 of 126 (4203 views)
Shortcut

Well... the pups are in penang.

Ok, the BTs that commonly seen in Malaysia are in white colour, or white with black marking. It is very hard to find a BT with colours like brown, brindle or yellow in our country. BT that with pure white might have hearing problem or may be deaf, this is due to the genetic problem.

So when you buy a BT pup, try to test it by trickle you finger softly beside its ear, if it respond to the trickle sound that means it is ok, if not don't buy it. The most expensive BT I saw (local breed) were sole at RM2900.00 in Penang, in KL may be more than that... it was a one eye jet male pup. But if you talking about a import BT, the cost will be much much more highier, example; My friend bought a BT from Thai, with cert (I don't know how he got it with local import license and certificate even this breed has being banned many years ago) at RM7k +. This dog names NICK, it is white colour and no marking at all.

In KL, this breed will cost around RM1700.00 to RM2800.00 depends on the marking. I owned 1 BT many many years ago and unfortunately she is not suitable for breeding due to its heart problem, she died 7 years ago. I'm now into American Staffordshire Terrier.

Hope these could help. good luck!!