nicky_spykeaz
Doggyman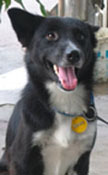 Jun 12, 2005, 7:08 PM

Post #30 of 30 (699 views)
Shortcut

Re: [jcjsjc] Anyone have any idea of his breed? [In reply to]
Can't Post

---
hello...realise you are asking some question on choker..choker is a metal chain..it normally use for training..
Example if your dog against or did not respond to your command, a gentle pull on your leash which attach to your choker will give a sudden pull on your dog..normally it is feel like choking your dog but in a gentle way..once a release of the your leash, it will release the choker...it give a release to your dog..this help you to let your dog know if disobey of command will result an uncomfortable pull on him/her...choker is easy to put in and off to a dog..that why alot of ppl like to use choker..it different from a collar..
but never use a choker to walk your dog becuase it is not so comfortable..

well i have attach a picture of choker and some info on choker you might want to read..you can find out more on choker by simply type choke chain in google search...
me personally not favour on choker but not against any1 using it because different ppl different training style..see which one suit you better...

members.aol.com/ukaim/frame.htm?c_chokes.htm

hope it help u ya..

Cheers ya,

Nicki the Devil live by the reputation of the name



boBby is a craz3 car PassaNger
Fat FaT other case Elegant Car GuEst
What make Me?
A LoYal huMan Driver....



NoBody is Prefect, Guess What i am Nobody
Nice to meet YOu

(Bobby+Nicky craze JT memBer)

BoBby San DogstEr
http://www.dogster.com/?158414
http://spykeaz-devil.blogspot.com/

(This post was edited by nicky_spykeaz on Jun 12, 2005, 7:09 PM)