nicky_spykeaz
Doggyman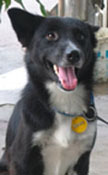 Jun 12, 2005, 9:16 PM

Post #9 of 11 (2681 views)
Shortcut

Re: [xiaochui] HELP! Remove ticks! [In reply to]
Can't Post

---
have you clear the problem?? if not i can suggest you something....some might think is the most stupid thing to do but it work on all the dog i have...maybe you can try this after trying everything ya..

you make a very diluted washing detergent powder..i use biowhite..a good quality because it have less foam <-- it better you use less foam detergent powder, less damage to you dog...a teaspoon of detergent powder+ 1/2 bucket of water..medium bucket..then wash throughly to your dog, make sure you rub into the fur..leave it for a minute and rise with clean water..make sure all is rinse out..as you know it is washing detergent..any left over will damage your furkid coat..repeat it once a week, slowly reduce it 2 twice a month to once a month...you can see the changes...it work for me because my Bobby san like to roam outside and play with other dog..so sometime he smell like a stray dog but after using it, he doesnt have the dog smell anymore..he is tick free after a month of using it..now i only use it when he is back smelling like a doggie smell...



Cheers ya,

Nicki the Devil live by the reputation of the name



boBby is a craz3 car PassaNger
Fat FaT other case Elegant Car GuEst
What make Me?
A LoYal huMan Driver....



NoBody is Prefect, Guess What i am Nobody
Nice to meet YOu

(Bobby+Nicky craze JT memBer)

BoBby San DogstEr
http://www.dogster.com/?158414
http://spykeaz-devil.blogspot.com/